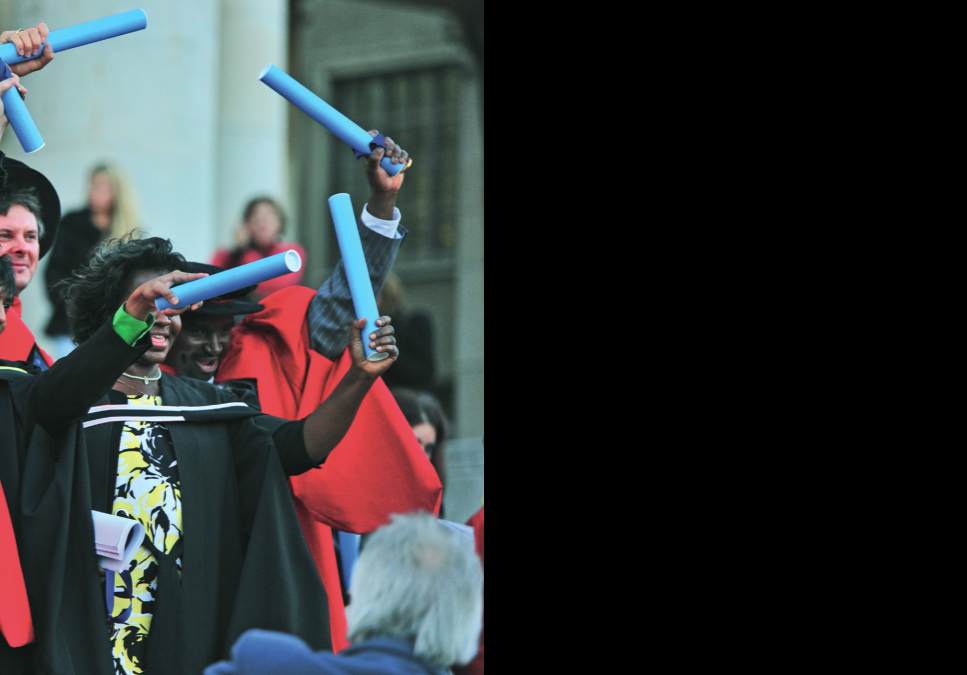 UCT Research Report '11
A new generation of university students: an
investigation of changes and continuities
In 2008, Grade 12 learners wrote the new National Senior
Certificate (NSC) for the first time, thus representing the
first cohort of learners educated in a curriculum based
on the principles of outcomes based education (OBE).
Importantly, these students are also a generation who
have grown up and been educated in a 'new' South
Africa, under one educational system. This collaborative
project focuses on the access and throughput (that is,
the undergraduate experience) of 100 students from this
cohort, who entered university in 2009. They are from
educationally disadvantaged backgrounds and most were
admitted to academic development programmes.
The articles produced thus far analyse these students'
experiences of schooling and of the transition to the
the concept of 'disadvantage';
the relationship between identity and education; the
mismatch between school practices and those required
within the academic environment; and the appropriateness
of existing models of academic development. The focus
is now shifting to longitudinal issues related to student
learning and identity. Data from the project have informed
presentations at UCT, as well as the researchers' own
developmental work in admissions, placement, and
The project is funded by the Andrew W. Mellon Foundation.
Researchers
: Associate Professor Rochelle Kapp; Moeain
Arend; Bongi Bangeni; Elmi Badenhorst; Dr Tracy Craig;
Dr Busayo Ige; Dr Viki Janse van Rensburg; Dr Kate le
Roux; Robert Prince; Associate Professor June Pym; Judy
Sacks (research assistant), and Dr Ermien van Pletzen.
The Large Classes Project is in its fourth and final year
of implementation. It is a collaboration between CHED
and four South African institutions that were chosen to
represent a range of teaching contexts in higher education
in South Africa; namely the universities of Cape Town, the
Western Cape, Fort Hare and Johannesburg.
The main aim of the project has been to identify the
key mechanisms needed to improve student learning in
the context of large class teaching in each of the four
case studies. It has involved supporting academic staff
in the design and implementation of key interventions,
the monitoring and evaluation of these interventions,
and assisting participating institutions in incorporating
successful interventions into regular practice.
The case studies have involved supporting writing
development, developing and introducing materials to
support active learning techniques in the large class
Departments
Centre for Information Literacy
Higher and Adult Education
Studies and Development Unit