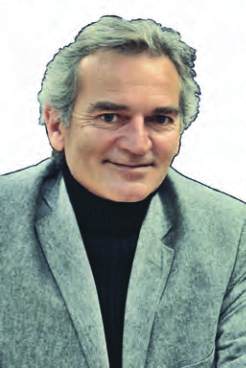 UCT RESEARCH REPORT '11
Research Contracts
and Intellectual Property
Services Office
Contracts and Intellectual Property
Services Office, which has seen
externally funded research agree-
ments reachingnewhighs in terms
of volume (up by 31 percent to
1 360 contracts) and value (up
by 29 percent to R722 million). The value of
contracts entered into with foreign entities
was R438,62 million for 2011 (compared to
R382,5 million in 2010 and R334,7 million
This all happened against the backdrop of the
implementation of the Intellectual Property Rights from
Publicly Financed Research and Development Act
(IPR Act), which has impacted significantly on the time
required to negotiate both research and commercialisation
contracts, with the need to educate external parties on its
terms and the new requirements.
We have also seen the highest-ever annual invention
disclosures (36) and outbound license agreements
(13), as well as the establishment of three new spin-
off companies, indicating increased activity across the
innovation continuum. Our inventors have also received
recognition, locally and abroad. Dr George Vicatos of
the Mechanical Engineering Department was named the
recognition of South African inventors. The Department of
Physics' NanoSciences Innovation Centre and their spin-
off nanotechnology company, PST Sensors, scooped the
Printed Electronics USA Best in Show Award at the 2011
Printed Electronics USA Conference in Silicon Valley. This
is their second major award, following on the heels of their
2010 Printed Electronics Europe Academic R&D Award.
This year, we decided to produce a concise brochure
to showcase innovation at UCT, augmenting the more
comprehensive publication produced in 2010. The
comprehensive publication will be published less
frequently and brochures of this type will now be produced
annually to raise the profile of UCT's innovations, both
internally as well as to external stakeholders.
It is, however, still the case that many UCT innovations
with huge social and commercial promise never get
off the ground because of a lack of both seed funding
and the managerial and mentoring skills
needed to birth new spin-off companies.
We have launched two new initiatives to
address these problems. Through the
Alumni and Friends Innovation Network,
we call on individuals to donate a portion
of their time and/or expertise to further
innovation at UCT. The contributions can
be in the form of knowledge or contacts
in the market place, the evaluation of
technologies, or mentoring and guidance
to spin-off enterprises. Supporters could
even consider acting as a chief executive
officer or a director of a company (more
information can be found at: www.rcips.
uct.ac.za/fundinnov/alumni_friends/).
The Evergreen Fund initiative builds on the existing
foundation of the UCT Pre-Seed Fund, with the objective
of assisting the successful translation of good technology
into good business. The fund will differ from the Pre-Seed
Fund in the sense that the investments will be larger
(between R500,000 and R1,5 million each) and a level
of return will need to be made to the Evergreen Fund.
The funding will support technology development, or be
used to get spin-off companies off the ground, but will be
considered to be loans, rather than direct grants. The idea
is that, once the company is established, the seed money
will be refunded to replenish the fund in order to support
other technologies and/or companies. We hope to raise
a minimum of R10 million. To date, we have R2 million
that has accumulated from a donation of approximately
R500,000 made by Richard Sonnenberg in the late 1980s
for technology transfer activities.
Another highlight was the approval of our new Intellectual
Property Policy by the National Intellectual Property
Management Office. While many of the changes in the IP
Policy were necessary because of the Intellectual Property
Rights Act that influences the way in which UCT manages
its IP, it was also an opportunity to clarify some grey areas
and to bring it up to date in terms of new intellectual
property developments relating to aspects such as Open
Source and Creative Commons. In this regard, it is worth
noting that UCT has adopted Open Source as the default
for research and teaching related to software development
and under the innovation section of this report, we describe
how open sourcing has assisted a UCT research team in
developing a mobile phone application that enables users
of low-cost phones to submit water quality results quickly
Director: Research Contracts and
Intellectual Property Services