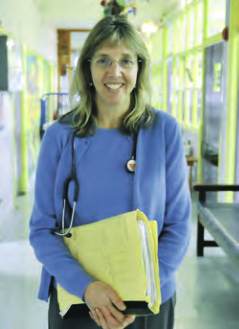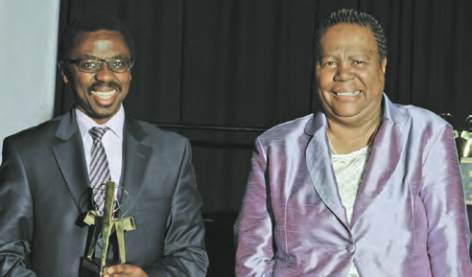 Three of UCT's researchers and two affiliated
research projects were honoured at the 2011/2012
NSTF-BHP Billiton awards in a cross-section
of categories – and scooped five of the 12
awards made.
Professor Heather Zar (pictured top right), Dr Amanda
Weltman (top left), and Professor Bongani Mayosi
(below with Minister Naledi Pandor) were all individual
winners, while the Namaqualand Restoration Initiative
(NRI) and CapeRay, a UCT spin-off company, received
awards for Research leading to Innovation.
Professor Heather Zar, Head of Paediatrics and Child
Healthat UCTand theRedCrossChildren'sHospital, was
awarded the TW Kambule NRF-sponsored Outstanding
Senior Researchers Award. Her research on respiratory
illnesses such as pneumonia and tuberculosis in
children infected with HIV and those suffering from
asthma, has set new diagnostic standards, helps
prevent infection and optimises treatment, improving
child health around the world.
Dr Amanda Weltman, senior lecturer at the UCT
Astronomy, Cosmology and Gravity Centre, received
the TW Kambule NRF-sponsored Distinguished
Young Researcher Award for significant contributions
to theoretical cosmology. Dr Weltman developed
the chameleon mechanism theory, which points to
dark energy as the explanation for the accelerating
expansion of the universe. This will soon be more
closely studied at the MeerKAT and Square Kilometer
radio telescope projects.
Professor Bongani Mayosi, Head of the Department
of Medicine at Groote Schuur Hospital and UCT, was
recognised for his contribution to science, engineering,
technology and innovation through management and
related activities over the last decade. Professor Mayosi
works with a multi-modal framework that trains medical
researchers and gets them involved in the policy process
that then translates into implementable programmes.
These first three Ps (people, policy, programmes) then
enable the fourth P: progress. His research focuses
on heart disease, the biggest cause of death in South
Africans after HIV/AIDS and TB.
The Namaqualand Restoration Initiative (NRI), a
project that seeks to restore landscapes degraded by
mining activities into biodiverse ecosystems on the
UCT researchers scoop top
NSTF-BHP
Bi l l iton 2011/12 awards
Namaqualand coastline, was recognised for creating work
opportunities for communities where mining companies
have closed down. The project is headed up by ecologist
Dr Peter Carrick, a research associate in the Department
of Botany. Apart from long-term ecological restoration, the
initiative's other aspects are training and monitoring. The
NRI is engaging industry to enable the model's practices
and expenses to be integrated into mining businesses.
And lastly, CapeRay, a company that came out of the work of
Kit Vaughan, emeritus professor of biomedical engineering
at UCT, received an award for its work in developing the
PantoScanner. Through innovative technology, the device
combines the best aspects of x-rays and ultrasound by
overlaying the two types of images with the option of a 3D
image to enhance the early detection of breast cancer.
The NSTF-BHP Billiton awards honour outstanding
contributions to science, engineering, technology, and
innovation (SETI) and are the only national awards that
address areas beyond pure research, such as management,
communication and research for innovation.
RESEARCH DASHBOARD